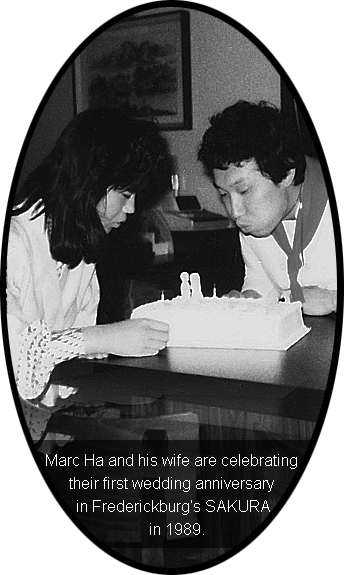 Sakura Japanese Steak and Seafood house was founded in 1988 by our president, Marc Ha.
Marc opened his first Sakura restaurant in the small town of Fredericksburg, Virginia.
This restaurant had only 7 Hibachi tables. Marc worked as the manager as well as a chef of the restaurant. However, Marc's life in the late eighties did not only involve this small family run restaurant. Marc also worked as a computer programmer at the Naval Base in Dahlgren, Virginia.
Eventually, his persistent hard work began to pay off. He began to see many of the same faces over and over, made many friends, and received stunning reviews. And now, from his strong growing consumer basis, he has expanded the breadth of his company to the west coast.
The fundamental philosophy of our company remains viable, even in the face of our tremendous growth and maturation: an unyielding commitment to great food, service, and attitude!
Our executive team is committed to providing you with a great place to work as well as an eating experience that will be unforgettable!
Traditionally, Japanese food is fresh, healthy, and low in fat.
The Japanese believe that food should satisfy all the senses.
Food is always prepared with great care and beautifully presented. The freshest ingredients are combined in ways that delight the eyes as well as the taste buds. Seasonings are generally very simple in order to enhance the natural flavors.